Craig's Violins Model A50 Student Violin Outfit
Stradivarius Model Nice slightly flamed maple back and sides and neck. Carved fine spruce top. Ebony fittings with metal fine tuner tailpiece. Brazilwood bow with real horsehair. With shoulder rest. Mostly slightly used In stock in small  sizes in 1/16, 1/10 , 1/8 & 1/4  sizes.  1/32 size by special order.
Price: New $225 Used $150-$195.
---
Craig's Violins Model A-80 Student  Violin Outfit . Redish Brown Varnish . Nice carved  Maple and spruce. Ebony fittings with tailpiece with built in fine tuners. D'Addario Prelude strings or Thomastik Alpha strings.   Price $325
---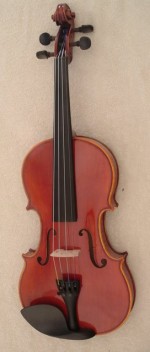 Craig's Violins Model A-100 Violin Outfit
Craig's Violins model A-100. A nice upgrade from the A-50 model. Nicely flamed maple, most have 1 piece backs. Brown varnish. Supplied with Rectangular case and Brazilwood bow. Comes set-up with Thomastik Vision strings in smaller sizes and Thomastik Spirit strings in  full size violins. Tailpiece has built in fine tuners. Nice tone. 1/32,1/16,1/8,1/4,1/2,3/4 and full sizes. Currently in stock 1/2 and 3/4 size. Full size coming soon. . E-mail me at Staff@Craigsviolins.com for photos.
Price: $450________________________________________
Armonia Full Size Violins. Antiqued varnish. Nice sounding violins made from quality nice figured woods. 3 levels Regular $495, Deluxe model , nicer instrument with Dominant Strings $795. Primo with louder sound projection and Evah Pirazzi strings $1500.
---
TEXAS BLUEBONNET SPECIAL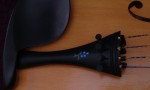 Built in our shop with quality tone wood.  Graduated for the sound western swing, bluegrass,celtic and other fiddle players love as well as some classical musicians.  Varnished with Craig's own Oil Mineral Ground Matrix Varnish . Golden-yellow with red amber tint. Labeled "Texas Bluebonnet Special" with the train and flower logo. Initialed "C.W." in my own scribbling. Tailpiece is hand engraved and painted with a native Bluebonnet.  All ebony fittings. #005 has been sold. Will be starting to build #6 soon. Fewer than 250 will ever be made. Outfit discounts can be yours with choice of bow and case. Price $5000 violin only, nice outfits starting at $5250 Custom  Acoustic-electric versions are available by special order.
Price: $5000     Electric $5395