Craig's Violins
Biography of Craig Walker
My father purchased my 1st violin for me at age 5 while living at my birth place; Houston, Texas. I started taking lessons and playing in the school orchestra at 9 years of age in Temple, Texas. There I had private violin lessons taught by Charlotte Reed, then a college student, and Gary Ballard, a violist with the Austin Symphony Orchestra. After graduating from Temple High School I started taking a interest in learning violin restoration and making.
In 1985 I moved to New York City (Brooklyn) working as a volunteer minister for a religious institution. There I had the opportunity to play Broadway musical tunes in a ensemble, fiddle tunes in a bluegrass band and classical repertoire in a quartet.
In 1990 I had the opportunity to purchase a few antique violins that were restoration projects. I did a lot of research on the subject and set out to learn all I could from the violin makers and restorers in New York City. William Monical was a inspiration to me. His specialty is restoring and making copies of Viols from the Baroque period – earlier ancestors of the violin. He has a real passion for studying the history of old bowed stringed instruments, and has been hired to appraise collections for the Smithsonian and other institutions.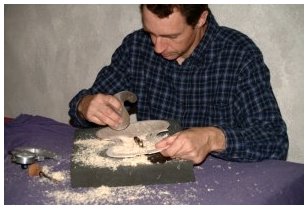 In 1994 I transferred to Wallkill, New York in the Mid-Hudson Valley. While continuing the same work, I started making violins and acquiring more challenging restoration projects. I restored a English violin made in the 1780-1790 time period. I had the privilege of learning a few things from Joseph Regh. He was the Vice-President of the Violin Society of America. He has a violin shop at his home in Wappingers Falls, NY. He is a retired semi-conductor physicist for IBM. He studies the differences in violins by scientific methods. He also makes bows for violins and teaches courses on bow making at times. He encouraged me to join the VSA and attend their conventions and competitions. He critiqued some of my early restoration and violin-making projects. I have been a member of the VSA for around 15 years now.
I moved to Austin, Texas in 2000 to marry my wife, Teresa & opened Craig's Violins. Handling sales, rentals, repairs of violins, violas cellos and upright basses. Starting with the July 4, 2012 episode I started working as a violin appraiser & consultant for the National Geographic Tv series "Americas Lost Treasure". I also became involved in teaching violin playing. My clients include professional classical violinists and teachers, as well as Nashville recording artists; Some of the best known fiddlers in the world. It is great to get a free concert in my shop while they try out my instruments. I enjoy watching young musicians grow up and progress in their skills and helping them with their instrument upgrades. I have sold instruments to satisfied players in Australia, Israel and other countries though most of my clients are local.